HYPSOS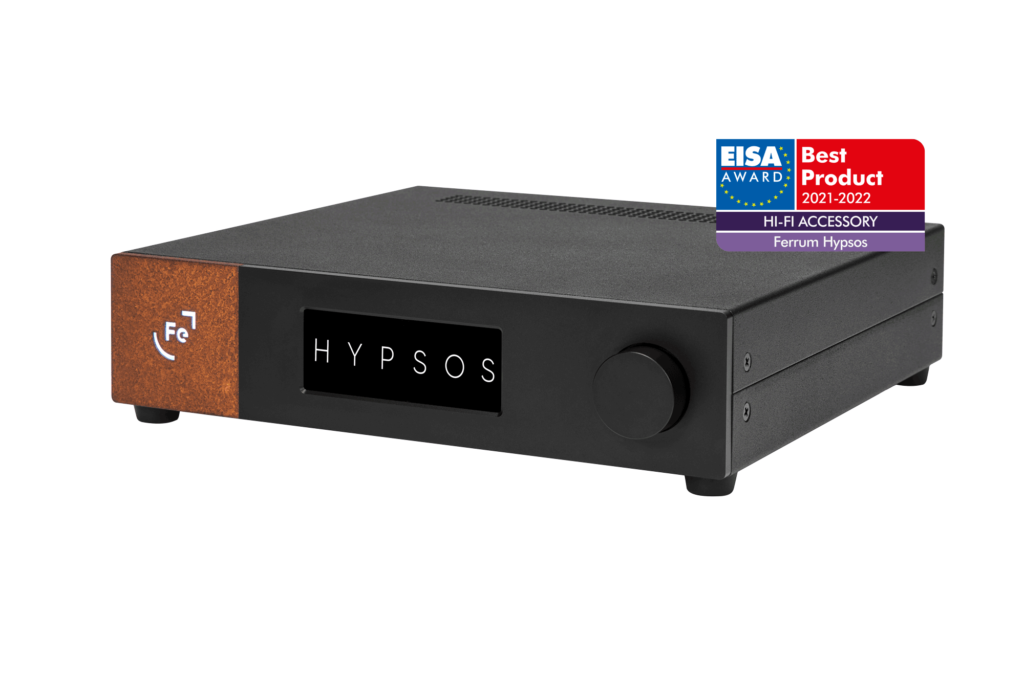 The Hypsos really did it. More dynamics, better bass performance...
- Morten Mohr & Marius Smolinski, Germany
HYPSOS defines a brand new category of a hifi products. It's not a simple power supply but an audio component of its own – an equally (or even more) important part of a setup as any other. HYPSOS offers a selection of unique features and even accounts for future software improvements – the device is software controlled with as few hardware dependent elements as possible. The most important features are:
Extensive and easy to update list of compatible devices is flashed right into the device to make the Hypsos set-up experience straight-forward and safe.
Electronically controlled output voltage and DC plug polarisation allows you to power a lot of equipment without the need of purchasing different product or cable versions. Before the output power is applied you are always asked for the confirmation of the parameters set - whether for the device chosen from the list or entered manually.
Sweet Spot Tuning or as we call it SST is a super unique possibility to experiment with a different voltage level supplied to your device. You can adjust the level (in the safe range described by the device's manufacturer) of output voltage on the fly and be sure not to damage your unit.
"The Ferrum HYPSOS, is a game changer, not only as an improvement over the standard power supplies, but as a versatile addition to many DACs. The HYPSOS, really is THE upgrade path to take if you want to hear what your digital front end can produce. "
Unique output cable design: two wires delivering the power and two wires providing the feedback to ensure flat voltage at every moment. This technique eliminates the harmful effects of the cable's resistance effectively improving transient response. The current delivery speed at the powered device's input is significantly improved.
HYPSOS comes with one of the two high quality DC power cables fitted with a 5,5x2,5mm and a 5,5x2,1mm DC plug, to connect to the most commonly used DC inlets. If you need different type of DC plug please contact us.
Power input: 110-120 & 220-240V AC/50-60Hz (EU/US Version)
90 – 110Vac/50-60Hz (JP Version)IEC C14 power inlet, a fuse holder with power on/off switch plus two-stage EMI filter for low impedance load with better noise attenuation in low frequency applications
Mains cable: US/EU/UK
DC OUT cable: 5×2.5mm DC plug / 5×2.1mm DC plug Custom cables made to order at additional cost
Output Voltage Range: 5-30 [V]
Max Continuous Output Current (for V_out below 13,3V): 6 [A]
Max Continuous Output Current (for V_out higher than 13,3V): l_out= 80[W] / DCout[V]
Maximum Impulse Current: 9A
Maximum Impulse Power: DC V_out*9A (270W for 30V)
Max Continuous Output Power (for V_out below 13,3V): P_out = V_out[V] * 6[A]
Max Continuous Output Power (for V_out higher than 13,3V): 80W
Dimensions (without knob, feet and connectors) (W x D x H , mm / inches): 217.5 x 206.5 x 50.0 / 8.6 x 8.1 x 2.0
Net weight (kg / lb): ~ 2,89 / ~ 6.2
Primary winding fuse: IEC 5x20mm, 250V 3.15A,
slown-blown for Japan version / 250V 2A, slown-blown for Europe,
US version
Secondary winding fuse: Littefuse 154004T, 4A
Power consumption: 230VAC, 50Hz @ 12VDC out/: Idle – 6VA @ 15W load – 30,7VA @ 60W load – 98VA @ 80W load – 133,9VA